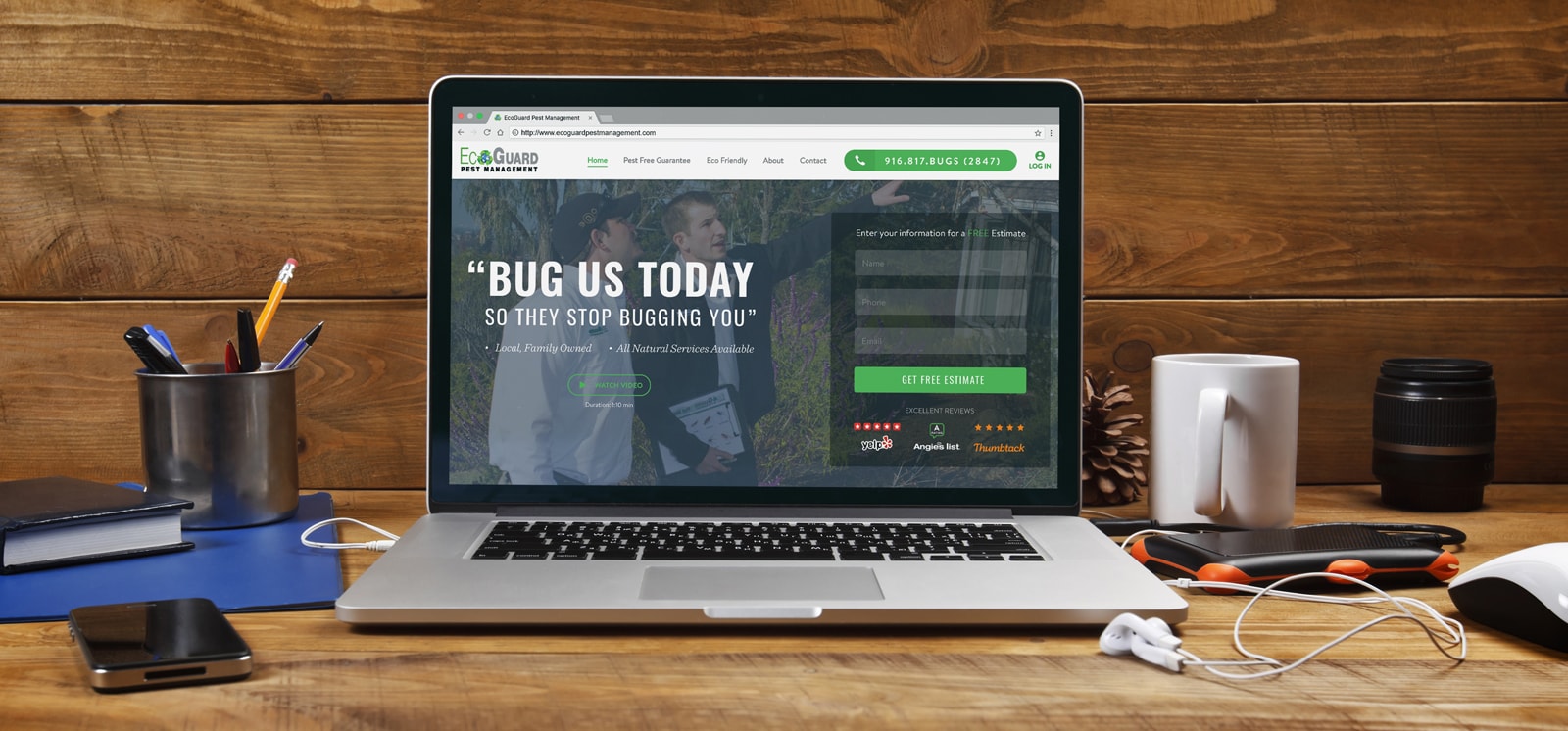 Our Services
Website Design
Discovery Process
User Experience Design
User Interface Design
Copywriting
Web Design
Our core competency and what we're best known for in Sacramento is our web design service. This stems from two things; empathy and talent.
Here's what we know:
In order for us to build a website that works well for your users (customers and prospects), we must empathize with them. To do this we put ourselves in the shoes of every type of person who is going to use your website and consider what their goals are.
Once we understand their intentions we build the site around this and your organization's goals. A site built to generate leads is going to be different from a site meant to keep the user going from page to page looking at ads.
Below is an example of a lead generation website design for a local business in the Sacramento area.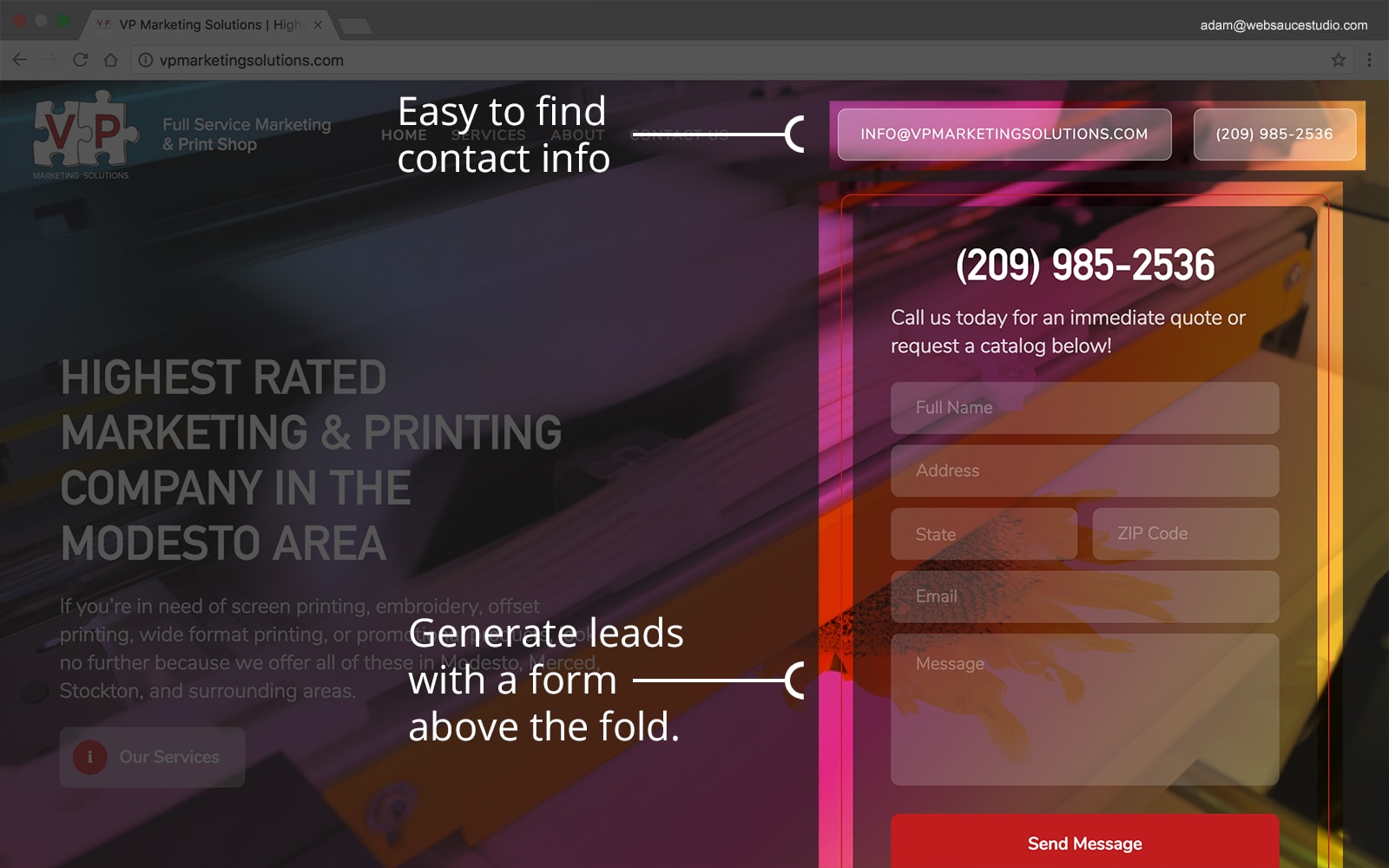 The second part, talent, stems from our artistic abilities and our mad passion for great design. We are proud of our work and don't shy away from the skills we bring to the table for our clients.
Discovery Process
We begin all of our client interactions with a phone call or in-person meeting to establish whether there's a good fit or not. We'd don't accept every project nor do we expect to be the best fit for every client. We're transparent, ask hard questions, and make sure all expectations are set properly from the start.
Once we establish there's digital and real world chemistry, we begin our projects with a thorough Discovery Process so we can determine what's going to be the most effective strategy for your website and organization.
We create a discovery document that everyone on our team studies and is in sync with. The first meeting we dive deep into what your business is all about and the goals you're trying to achieve.
We start at a high level, discussing your company culture, who your customers are, the feelings your product/service offers your customers, the impact it makes, and what your X-Factor is. This way we create a website that you're not only proud to show off, but more importantly, aligns with your goals and produces the results you're looking for.
User Experience
After the Discovery Process, we begin thinking about the
user experience
of the website. We ask ourselves how the user going to interact with the website and how we want to them to interact with it. The challenge is in making their interactions as intuitive as possible while at the same time gently guiding them to act in a way that produces results for you.
To accomplish this we begin with low fidelity wireframes which act as the blueprint of the website. Just like you wouldn't build a house without first knowing how the structure will be built you can't build a great website without knowing what the framework will be built.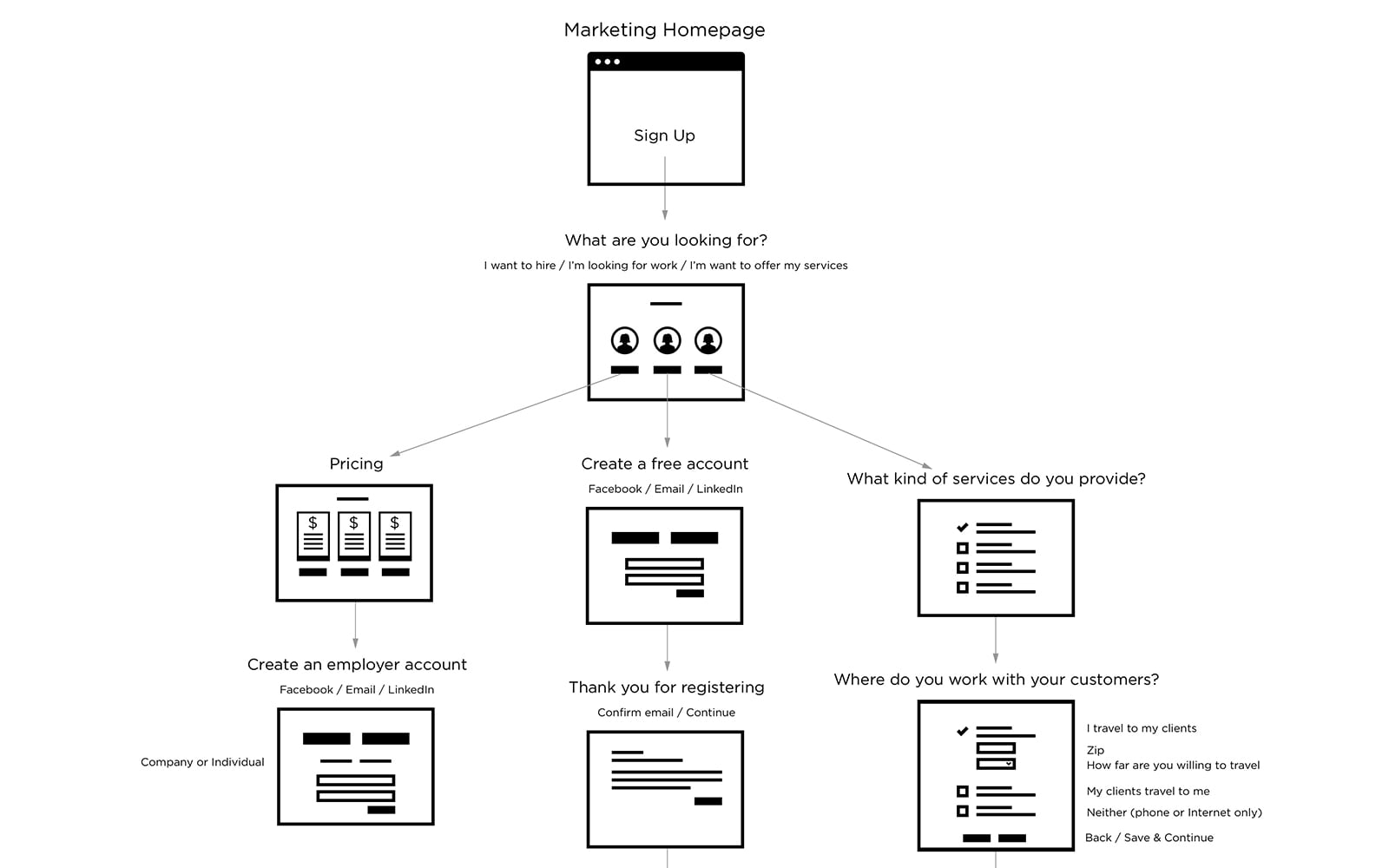 An example of a user flow diagram to blueprint the user experience.
User Interface
Designing the user
user interface
is the fun part where our creative and artistic side gets to meet the science of design best practices. We pull from our creative brain to match the colors, style, and feel to your brand and implement proven design tactics that get users to take certain actions.
Copywriting
This is where your brand message is anchored and the sale solidified. Our professional copywriter will sit down with you for a shortened one-hour Discovery Process to learn more about how your users speak and think about your product, service, and industry.
Depending on the goals of your website this is also crucial to
search engine optimization
and could be the difference between ending up on the first page of Google or nowhere to be found.
Let's Get Started
Your website works for you 24 hours a day, 7 days a week, 365 days a year and the foundation is the web design. Whether you're in our hometown of Sacramento or next to our client in Florida, we would love to hear from you and get started.
Learn About Our Process